Rock Hard gave us 8,5 of 10 points – thank you very much Ludwig Krammer – you carry on the flame!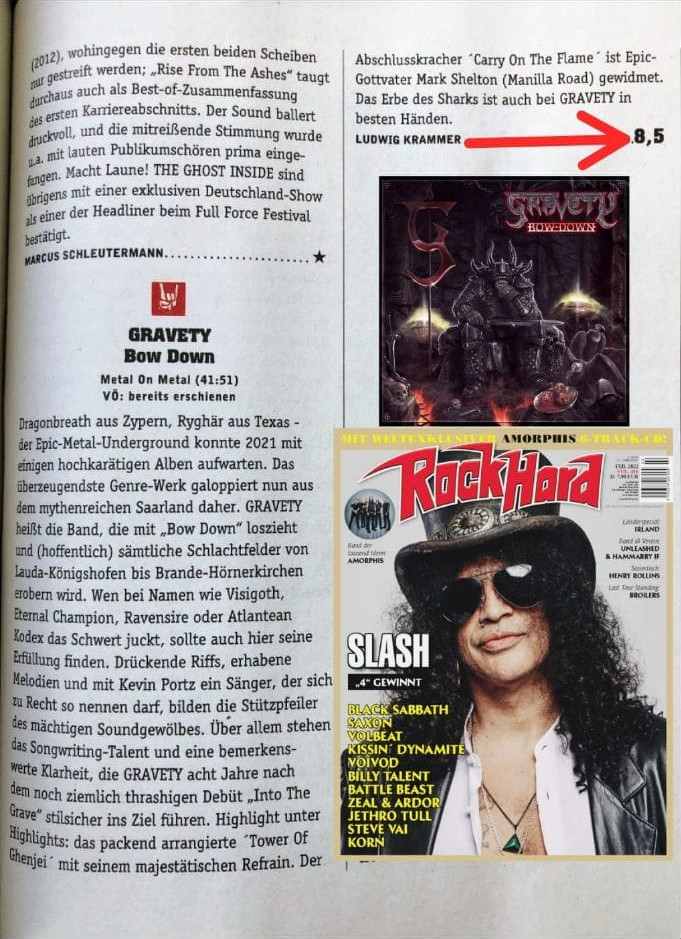 Here is the English translation:
Dragonbreath from Cyprus, Ryghär from Texas – the epic metal underground was able to come up with some top-class albums in 2021. The most convincing genre work is now galloping from the legendary Saarland. GRAVETY is the name of the band that sets off with "Bow Down" and (hopefully) will conquer all battlefields from Lauda-Königshofen to Brande-Hörnerkirchen. If you're itching for picking up a sword with names like Visigoth, Eternal Champion, Ravensire or Atlantean Kodex, you should find satisfaction here too. Pushing riffs, sublime melodies and, with Kevin Portz, a singer who can rightly call himself that, form the pillars of the mighty sound vault. Above all, there is the songwriting talent and a remarkable clarity, which lead GRAVETY to their goal eight years after the still rather thrashy debut "Into the Grave". Highlight among highlights: the grippingly arranged "Tower of Ghenjei" with its majestic refrain. The closing smash "Carry On the Flame" is dedicated to Epic godfather Mark Shelton (Manilla Road). The legacy of the Shark is also in the best of hands with GRAVETY.